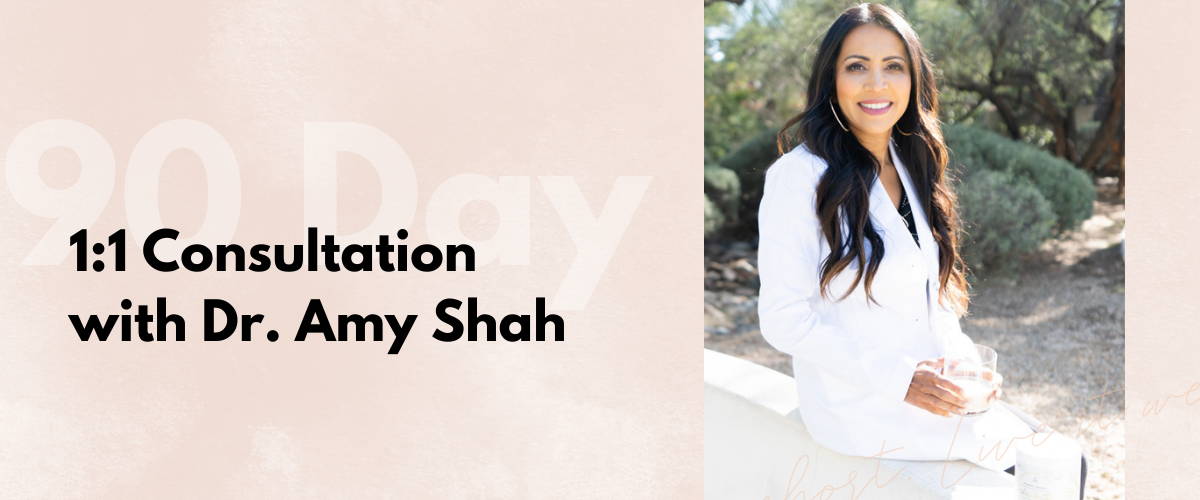 Want to take your health journey to the next level?
Work directly with Dr. Amy Shah through this new and unique opportunity to optimize your health over a 90-day period.
Determine Your Health Goals, Optimize Fasting,
Meal Plan, Lifestyle and Nutrition Changes.
What's Included in the 90 Day Consultation?
The goal is 90 days total health and mindset transformation. Feel confident, strong and better than you ever looked before!
Day 1 Kickoff Call (30 min)
Create a diet, exercise and fasting plan. Dr. Shah will email you a specific recommendation after your first session. Lab work or other things will be recommended. A full customized diet plan will be created.

Day 1 Kickoff Call (30 min)
We will refine and further flesh out the fasting, diet and exercise plan. Diet may be changed. Supplements and herbs may be suggested

Weeks 3 - 12 (3o Min Check In's)
Adjustments every week made to the diet, fasting, exercise, lifestyle plan based on the results that we are achieving together. Everything is personalized with Dr. Shah
Interested in booking a 20 minute call first?
Note: If you are serious and interested in changing your life, send an email with the Subject: 90-Day Experience to amy.g.shah@gmail.com to see if you are a good fit for the program
*No refunds or exchanges. All changes and cancellations must happen within 48 hours of sessions and sessions are valid for one year from the time of purchase . If there are any changes to Dr. Shah's schedule, she will give you a 48 hours' notice. This is not a doctor/patient relationship but a wellness consult. This will not be covered by insurance.
DISCLAIMER: THIS WEBSITE DOES NOT PROVIDE MEDICAL ADVICE
The information, including but not limited to, video, text, graphics, images materials and or in programs/consultations contained on this website are for informational purposes only. No material on this site is intended to be a substitute for professional medical advice, diagnosis or treatment. Always seek the advice of your physician or other qualified health care provider with any questions you may have regarding a medical condition or treatment and before undertaking a new health care regimen, and never disregard professional medical advice or delay in seeking it because of something you have read on this website.